Home coffee pod device maker Keurig Green Mountain has announced it has agreed to buy the soda company Dr Pepper, whose official corporate name is Dr Pepper Snapple Group, in an $18.7 billion deal.
This is of interest to me because I'm a stock holder in DrPepperSnapple and saw my shares jump 20something percent this morning – 42% from when I first bought them.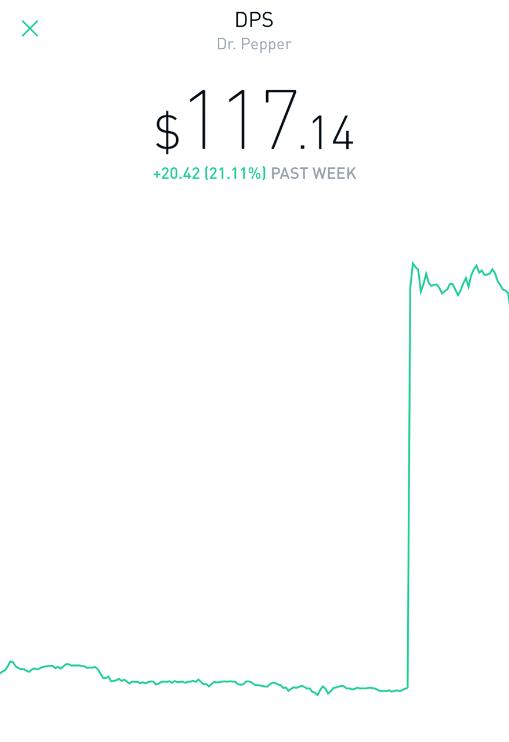 Only problem is I only own 2 shares… lol. I bought them for that-one-girl-who-fans-know-about-and-everyone-else-doesn't-need-to cuz it's her favorite drug so I figured we might as well own a piece of it (for the record, my "don't get high off your own supply" plan did not work).
Keurig stated today that Dr Pepper Snapple shareholders will receive $103.75 per share in a special cash dividend and keep 13 percent of the combined company. Dr Pepper Snapple shareholders like me still must approve the deal, so maybe I'll go against it and ruin it for everyone with my 2 votes.
Keurig Dr Pepper will trade publicly after the deal closes, which is expected to happen in the second quarter. A new ticker symbol hasn't been announced yet, the company said. Keurig will stay in its Waterbury, Vermont, headquarters, and Dr Pepper Snapple will remain in Plano, Texas.
Back when I bought the shares, I didn't know Dr Pepper was its own company. I'd have guessed it's a Pepsi property but no.
-It's big brands besides Dr Pepper and Snapple are Motts, Shweppes, & Bai teas.
-Smaller brands like Squirt, Calamato (ew), Cactus Cooler, RealLemon, & Crush…
-But also big name 2nd tier companies like A&W, Yoo-hoo, Hawaiian Punch.
– and then has weird distribution rights I don't fully understand where it owns 7Up in the united states (but Pepsi owns it in Europe) and it owns the Canada Dry drinks in North America only and the Coca Cola company owns it in the UK.
This is my 2nd win for my 2 measly shares, as right after I bought them in November 2016, Dr Pepper Snapple announced they would make a cash purchase of Bai Brands for $1.7 billion, sending the stock rising. It had previously purchased a minority stake in the company for $15 million in 2015.
Keurig is owned by a European holding company that owns Krispy Kreme, they just bought Panera bread a few months ago, Peets coffee, and some tea store brand called Mighty Leaf. so they're gonna synergize their products in each others brand storefronts.
Everyones merging these days because power companies are becoming titans that gobble up so much marketshare, a team-up and then combination is the only way to compete. Hulu for example is owned by "everyone who isn't Netflix" (21st Century Fox, Disney, Comcast [parent owner of NBC], & TimeWarner) and still has half the subscribers as it. That might change as late last year The Walt Disney Company announced it would buy 21st Century Fox and thus it's stake in Hulu, making Disney a majority owner of that brand. What it will do with it exactly hasn't been announced but we do know that Disney is making it's own Netflix competitor in some form. Disney owns ESPN, so whether there is a Disney streaming service, Hulu, & ESPN stream as 3 separate services or one or 2 is unknown at this time.
Viacom (cable company that owns brands like MTV, Nickelodeon, Comedy Central, Logo) and The CBS Corporation are going to probably merge in response to Disney and Fox's marriage. The first 2 have always essentially been one company anyway since both corporations are majority owned by billionaire Sumner Redstone.
Merging is the future. Now who's ready to buy some Dr Pepper single-serve soda pods?